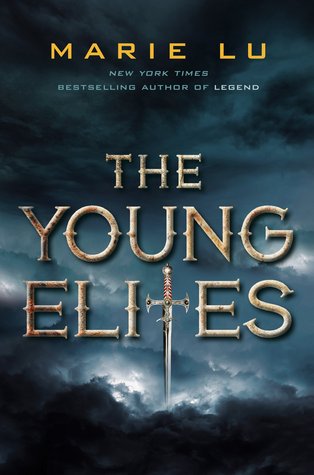 Author: Marie Lu
My rating: 4 of 5 stars
Shelves: recipe-for-awesomesauce, fantasy-pr-everything-untoward, more-please
I am tired of being used, hurt, and cast aside.
Adelina Amouteru is a survivor of the blood fever.
A decade ago, the deadly illness swept through her 
nation. Most of the infected perished, while many 
of the children who survived were left with strange
markings. Adelina's black hair turned silver, her 
lashes went pale, and now she has only a jagged 
scar where her left eye once was. Her cruel father 
believes she is a malfetto, an abomination, ruining 
their family's good name and standing in the way of 
their fortune. But some of the fever's survivors are 
rumored to possess more than just scars—they are 
believed to have mysterious and powerful gifts, and 
though their identities remain secret, they have come 
to be called the Young Elites.

Teren Santoro works for the king. As Leader of the 
Inquisition Axis, it is his job to seek out the Young 
Elites, to destroy them before they destroy the nation. He believes the Young Elites to be dangerous and vengeful, but it's Teren who may possess the darkest secret of all.

Enzo Valenciano is a member of the Dagger Society. 
This secret sect of Young Elites seeks out others 
like them before the Inquisition Axis can. But when 
the Daggers find Adelina, they discover someone with 
powers like they've never seen.

Adelina wants to believe Enzo is on her side, and that 
Teren is the true enemy. But the lives of these three 
will collide in unexpected ways, as each fights a very 
different and personal battle. But of one thing they 
are all certain: Adelina has abilities that shouldn't 
belong in this world. A vengeful blackness in her 
heart. And a desire to destroy all who dare to cross 
her.

It is my turn to use. My turn to hurt.
I vow to never underestimate Marie Lu again.
Think a carefully honed, bejeweled dagger that will blind you in the sun just as soon as it'll slice you under cover of darkness. THAT's what The Young Elites is. Think a girl twisted up inside, but you can't see it; you only see what she sees and you're taken in completely, oblivious while you dance around that precise blade, and then you do see it. You recognize it. And you revel in it, in her.
You get fucking high on her story, chaos, pain and death.
In spite of everything, I feel a strange sense of glee.
All this chaos is of my own creation.
You know it, I know it: I am pretty damn awesome. Yet I am fundamentally incapable of handling too much awesome that is not born of me at a time. And know this, too: I read The Young Elites intermittently through two days and nights, escaping to release pent up energy building inside of me, not of the meals I skipped, but that high I mentioned.
Just imagine how awesome The Young Elites is. No, wait-you can't. You, being the human that you are, are pathologically incapable of it. Let me give you hints. Let me describe it.
Join me in the revelry.
It is not a perfect book, but its characters' outshine every blemish and scourge I think to cast. Adelina Amouteru is at the center of this poisonous cloud that tells the story in cowardly whispers and calm statements of power and silent, maddened screams. She is the little lamb, toyed around here and there. Beginning as a scared runaway, ending as an exhausted antihero, she destroys the vision of a nation.
This is not a story of triumph.
It's the story of how Adelina fucks up.
It is my turn to use. My turn to hurt.
After being sentenced to abuse, neglect, coin hungry people, and threat of execution, she is brought under the wings of the Young Elites. The best amongst society's pariahs and victims, they're not a band of superheroes. The path to their destination is fraught with moral complexities, deaths of innocents. They stand by as those they vow to save afterwards die; they kill their own with indelicate hands. Their leader is Enzo Valenciano, whose passion and darkness sings to Adelina's own, and beside him is Rafaelle Laurent Bessette, whose hand wipes away her tears while writing her death sentence.
And I loved every member of this trio.
They're complicated mammals on the wings of robots ambition, perhaps not as fleshed out as I wanted, especially in the case of Enzo (view spoiler)[whose character formation I'd once hoped to follow in book #2 (hide spoiler)] but each one was possessed of soul black and ambiguous enough for me to fall for.
As dark as the situation progressively becomes, it's NOTHING compared to its characters.
Frankly, it's for the characters I exhort you to read this book, not the situation or world or magic, which I admittedly found lacking.
I complain because the depth of political intrigue was lost somewhere during sessions of energy manipulation.
I complain because I didn't understand the gender structure, the role of women: their worth seems to be in making advantageous matches, yet girls compete in race horses along with men.
I complain because a lot of other characters' formations in the beginning were done in abstract terms.
I complain because of the focus on how pretty and dazzling everything thing is.
I complain because I never did get the sense that their county, their city in particular, was in throes of poverty.
I complain because their enemy in focus, Teren Santoro, didn't have enough to give his own, regardless of his potential.
But I do it in few, in consequential terms because Marie Lu makes the dearth less obvious. Because she enchants with her refined, descriptive writing, beguiling one into complacency. Because her characters speak a lot in their actions. Because, despite everything, Teren was still fascinating. Because while engaged in the matter of Adelina's own terrible and confused self, one forgets one's own world, much less theirs.
And each of these facets separates the book from every other high-fantasy or superhero novel I've read.
And did I mention how breathtaking, feeling, piercing, vivid, and emotive the writing was?
Enzo attacks again.
I tell you, I wanted to be him. I wanted to be his opponent. That rush, those movements and heightened energy Adelina was only cognizant of passively, from a distance, as Enzo fought, I wanted to be part of.
It was so damn good.
I am Adelina Amouteru. I belong to no one. On this night, I swear to you that I will rise above everything you've ever taught me. I will become a force that this world has never known. I will come into such power that none will dare hurt me again.
So. Damn. Good.
Good enough to almost give you an orgasm.
If you're into that brand of madness, like I am.
It makes me tremble in dark glee.

You know what I mean; I just needed him in this review.
I am going to read The Young Elites again, this time without pauses. You should read it too. And I need to find a song for it. Maybe…
When you came in, the air went out
And every shadow filled up with doubt
Not a perfect fit, but the macabre + sexy fits, methinks. It doesn't speak for the entire experience of The Young Elites though. Still on the hunt.
This story didn't blow me away in one gust-that would have been rather disappointing, no? It built up in stages, in a crescendo, concluding with a bang at a maybe perfect ending. Oh look! I got another relatively appropriate song for this aspect of Lu's writing:
And some kind of madness has started to evolve.
(Ma-ma-ma-ma-ma-ma-ma…)
And I, I tried so hard to let you go,
But some kind of madness is swallowing me whole, yeah
Now, you see? It's impossible NOT to get high.
I am dying here, of uncontainable anticipation and energy, for the second book and it doesn't even seem to have a name yet. You're killing me, Dear Author. And if someone doesn't come back, by hook or crook, I don't think I'll be the one whose death report the coroner has to write up.
Tomorrow, I will take on all of these things. I will be unstoppable.
(I was kind of hoping The Young Elites would help grow a pair hard (hehehehehheheheh) enough to finally read Champion but I've observed no growth of such appendages yet.)